In this day and age consumers are plagued with spam and promotional ads on a second-by-second basis; So what are multifamily's top SMS messages that prospects actually want to receive?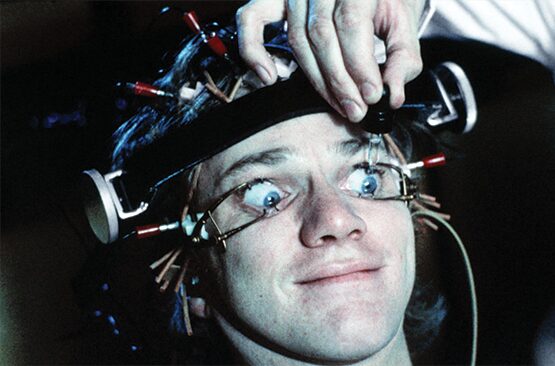 Back in the 70s, it was reported that the average person saw between 500 to 1600 ads per day. Without online marketing being a thing back then, most ads could be found on billboards, in newspapers, and on TV promoting the latest products. With the rise of the internet and mobile marketing, the numbers have skyrocketed.
It has been recently reported that today the average person seeing up to 10,000 advertisements every single day!
At Nurture Boss we've talked a lot about how our marketing platform provides a more humanized communication method for your leads and residents but there is still a difference between messages they want to receive and messages they don't.
For as long as we've been serving the multifamily industry we've been gathering critical data to help inform our users of the best messages to send at just the right time. Here's what we've discovered.
Multifamily's top SMS messages that prospects actually want to receive
We know this may seem obvious but follow us for a second..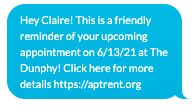 Appointment Reminders – If a prospects has scheduled a tour it is best practice to send them an appointment reminder before their scheduled tour date to the property. If you're sending these via email there is a high probability your reminder will go unnoticed. Sending an SMS appointment reminder is a friendly and convenient way for your prospects to be reminded and, most importantly, these texts have a 98% open rate.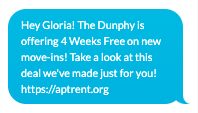 Concession Offerings – Concession offerings can be viewed as a promotional attempt and if sent via email will most likely land in their spam or updates folder. Never completely making it to their inbox. But when you send the same offer via SMS, concession offerings can be very useful for your prospects when making their purchase decision and comparing you against the competition.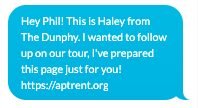 Tour Follow-Ups – These messages are a critical step in converting your prospect into a resident and if done properly will help your lead to lease conversation ratio increase drastically. Consider sending an SMS message within the first 12 hours after your tour.
PRO TIP: if you leverage Nurture Boss's automation feature all of these messages are automatically sent to your leads with a high level of personalization; so you never miss a critical touchpoint 😁
So why are these types of messages so effective?
Unlike most promotional communication methods; by sending these types of SMS messages, your community is actually connecting your prospect to information they want and need to help them evaluate their purchase decision. Deciding where to call home is a crucial decision that warrants a lot of scrutiny and information. By marketing via SMS not only are you staying top of mind for your prospects but more importantly, you're actually sending them the information they need to make their decision.
We've found that the more you can leverage the top 5 text message marketing best practices the better you'll convert!
So before you send your next email blast of digital junk mail. Consider a faster, friendlier and more convenient way to reach out to your prospects… Via SMS…
To learn more about Resident Retention and our platform Request A Demo today!