At Nurture Boss we have dedicated ourselves to helping leasing teams across America increase prospect engagement, online applications and lease renewals ultimately allowing you to increase lead conversions We've not only achieved this for our clients but we're consistently finding ways to fine-tune the results even more though integrations with the industries most widely used CRMs/PMSs.
There are many text message marketing services available to the multifamily industry, most of witch are built directly inside your very own CRM, but Nurture Boss isn't simply a text message marketing platform. Nurture Boss is a mobile marketing engine that adds three key component to your existing CRM and follow up efforts that set us apart from everyone else and helps increase lead conversions.
"Were not simply another text message marketing tool. Nurture Boss is a powerful mobile marketing engine that delivers a 3X increase in engagement and a 50% increase in online applications submitted."
How Nurture Boss Supercharges Your CRM and Follow Up and Increase Lead Conversions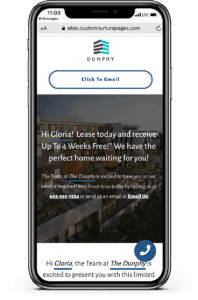 Personalized Lead Nurture – One of the key features our marketing engine provides is personalization. Prospects receive personalized text message communications as well as a link to a personalized nurture page. By leveraging data gathered from the inception of your prospect, Nurture Boss is able to craft tailored communications and offerings that speak directly to that prospect. This personalized form of lead nurture encourages the prospect to read and engage in communications created specifically for them; resulting in a 3X higher engagement rate… Higher engagement equates to more application submissions and lease renewals, this all leads to increase lead conversions.
Bulk Messaging – Most multifamily CRMs provide "one-off" text communications to prospects. Through our integrations with your CRM, Nurture Boss enables you to send bulk text message communications, offers, reminders, and much more. This saves your leasing team countless hours of lead follow up and allows you quickly and easily find prospect residents ready to lease.
Prospect Insight Algorithm – One of the most powerful components to Nurture Boss is our prospect insight algorithm. Our algorithm is constructed through text message deliverability, short urls, nurture pages and prospect activity. The data collected by our marketing engine gives your leasing team real time insight on hot prospects ready to lease. Additional your leasing team will receive daily "engaged prospect" notifications, giving you a speed to lead advantage shortening your lead to lease sales cycle. This tool with the advantages above all allow you to increase lead conversions.
Nurture Boss's platform wasn't designed to replace any of your current technology solutions, rather a supercharged bolt on suite of mobile marketing tools that put your leasing team in front of ready to lease prospects.
To learn more about Nurture Boss and our platform Request A Demo today!