Every business owner wants their message heard. Sometimes they even spend countless hours and dollars crafting the perfect nurture ad or email. They do all this only to find little to zero engagement back… And it's getting worse.
How We Used To Nurture
In the past, every smart marketer knew that capturing the prospect's email address was the key to nurturing the relationship into a sale. This mindset is rapidly losing its value because everyone's inbox is crammed packed with email newsletters and digital brochures. It simply doesn't work anymore. Additionally modern consumer doesn't respond to these archaic nurturing techniques.
How We Should Nurture
At Nurture Boss we've built a proven nurturing system that ensures our client's messages and offers are heard more than any other nurturing method in the marketplace. We do this by leveraging two key elements;
First, we achieve this through SMS delivery, which has proven to have a higher open rate than any other communication method.
Second, we leverage the power of personalization. Consumers are more prone to taking action if the message and content is personalized and based on criteria we already know about them.
"We received a 98% open rate on our last Nurture Boss Campaign. Something that is simply unobtainable through our traditional nurturing methods."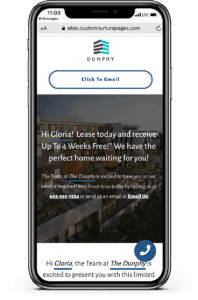 In a recent campaign we ran for a luxury Multi-Family Housing complex in Scottsdale Arizona we saw a 98% open rate from a campaign we ran to 210 prospects. This translates to 206 prospects seeing our client's special offer. But our strategy for higher sales conversion doesn't stop there. Once we added personalization to the message we noticed a 60% increase in actions taken from our text messages and nurture pages. Resulting in two new lease signups and 4 new online applications.
These results are simply unobtainable through conventional nurturing methods. Our case studies have proven time and time again that when you combine SMS delivery with personalized nurture pages the results trump any other nurturing efforts in the market.
Our Nurture Results
Here is a breakdown of some stats from Nurture Boss marketing campaigns:
98% Open Rates
60% Click Through Rates
12% Conversion Rates
To learn more about Nurture Boss and how we are helping Multi-Family Housing level up their marketing efforts